Bianca Hayes is a datable character in the sim dating game: Chrono days created by Pacthesis. She is a doll trapped within Hayes Mansion and is later accessible if you play the piano correctly within the mansion. She is the only female that is datable in the game.
Appearance
Edit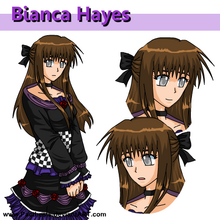 Bianca has long brown hair with a black ribbon and glazed eyes. As a doll, she wears upperclass and sophisticated clothing. Her dress consists of purple lining and black with a black and white pattern around the waist.
Personality
Edit
Bianca is very polite as she treats visitors as 'guests'. She is unable to eat anything as she is a doll however she appears to be constantly questioning emotions and humanity for her curiosity about humans. As Saige visits her more often, Bianca begins to open more towards her and begins offering kind offers to her.
Background
Edit
Ad blocker interference detected!
Wikia is a free-to-use site that makes money from advertising. We have a modified experience for viewers using ad blockers

Wikia is not accessible if you've made further modifications. Remove the custom ad blocker rule(s) and the page will load as expected.